There's very little that's nice about being ill but one of the few things is the amount of guilt-free reading one can indulge in. And I have certainly indulged. :-) First off Morality For Beautiful Girls by Alexander McCall Smith.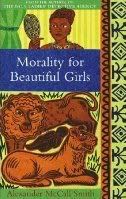 It's tempting to call these comfort reads but I tend to think of a comfort read as something you're 're-reading' because it supplies the warm fuzzy feelings you need. Well, I don't do a lot of rereading so my comfort reads tend to be books that I know I'll enjoy, usually because they're part of a series I've already started. For me, this series definitely comes into that category. Morality For Beautiful Girls is the third book about Mma Ramotswe and her detective agency. It would be so easy to say, 'More of the same', because it is really. And yet there is character development and a continuing storyline and if there wasn't I don't think I would be interested. Mma Ramotswe has to deal with the illness of her fiance in this one. Financial problems rear their ugly head and there are difficult crimes that she doesn't think she can solve. I love the developing character of her assistant, Mma Makutsi, who really comes into her own in this book. I also like McCall Smith's gentle digs at the shortcomings of his own sex. There is subtle humour too and I love the fact that he doesn't try to over-write these stories. It seems to me he has the voice of Africa down to a 'tee'. Brilliant.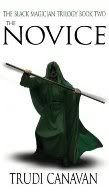 Where to start. I read the first of this series, The Magicians' Guild, a couple of weeks ago. Loved it. So how could I like this one even more? Dunno. I just did. Excellent, excellent, excellent.

This one is slightly Harry Potterish in plot (there's definitely a Draco Malfoy character). Sonea is now at the Magicians' Guild learning to be a magician. It's no exaggeration to say she's despised. She's a slum girl with a lot of power and they all either despise her origins or feel threatened. She's bullied mercilessly, ignored, looked down on. But the story is not just about Sonea, it's about the High Lord of the Guild. Is he good or evil? What's going on? Intrigue and secrets run amok. Black magic is suspected and a magician dispatched in secret to retrace the footsteps of a journey the High Lord took some years ago. For this magician, Dannyl, it turns out to be a journey of discovery about his sexuality too. This is not just a book about magic, it has things to say.

To tell the truth I'm almost glad I'm ill at the moment because I had the time to read this book without stopping. It would have been very frustrating otherwise as it's a real page-turner. Canavan's writing is straightforward, no frills, and she doesn't try to be too clever. Nothing distracts you from the important thing: the story. I usually try to have a gap when reading new series... read something else inbetween... but I can't do it this time. I have to know what happens and have already started the final instalment, The High Lord.