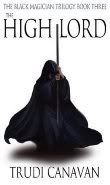 The High Lord was the final part of The Black Magician trilogy that I've been reading over the past few weeks. It was all about repurcussions really. What happens when Sonea joins the High Lord, their punishment, and the results of their story not being believed. Good stuff.

One thing I liked about this trilogy, (amongst many) was the fact that each book is very different. Many fantasy trilogies are just more of the same but this was not. Each book stood alone and differed from the previous one even though it had the same characters and their story was continued. No mean achievement.

I feel quite sad to have finished this series, to be honest. Canavan has another, of which two books have been written, the third to be published in July. I shall certainly read those but not yet while this one is still fresh in my mind.

Not sure what to read next. Possibly something from my Chunkster Challenge which I've been neglecting - The Book Thief by Markus Zusak maybe.