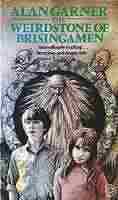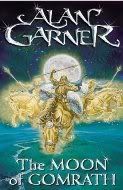 These two books, The Weirdstone of Brisingamen and The Moon of Gomrath were written by Alan Garner in 1960 and 1963 respectively. Not quite as old as me but very nearly. They're children's books - or young adult as they would probably be called today - and as such I've no idea why they didn't pop up in the library in Penzance, where I grew up. I think the problem is partly that it wasn't a terribly 'go ahead' library but also that in those days they didn't spend a heap of money on new books for libraries, be it children's or adult. Thus the choice, when you went, was nearly always the same. You worked your way through what they had and then started at the beginning again. *g*

I had favourites as a child. They included all the Enid Blyton Famous Five books I could lay my hands on and also her 'Of Adventure' series. Luckily the library seemed to have plenty of those. Minnow on the Say by A. Philippa Pierce was also a big favourite and reread many times - I have a copy of the very same book and must read it to see if it stands the test of time. The Narnia books of course, also reread many times - and I had a thing about The Water Babies by Charles Kingsley for some odd reason. But there were a few others that are lost to time unfortunately, mainly because I don't remember the title or author. One was a story of a girl who went on holiday to Scotland. There was an island just off the coast from where she was staying and the story was a Brigadoon type tale of a population who weren't really there, and her involvement with them. What this book was I have no idea because I've never seen it since. I've looked in various places and investigated on the net but no luck. Shame.

Anyway, how I came not to know about these two books (The Moon of Gomrath being the sequel to Weirdstone) by Alan Garner is a mystery. And rather a shame really, as I know I would have loved this story about two children, Colin and Susan, who go to live with an aunt and uncle in the Derbyshire Peak district. They get mixed up with the doings of a wizard called Cadellin Silverbrow and the various dwarves, elves and so forth that he consorts with. Danger comes from Selina Place, the Morrigan, and they're led into all kinds of adventure and rum doings. Good stuff. Even as an adult I appreciated the excitement of the tale - a long trip through a cave system to safety being particularly well done by the author. Good stuff. I shall keep these two for my grand-daughter for when she's ready to read them.