Shopaholic and more book porn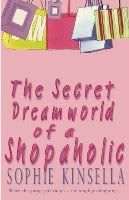 I like to think I'll read most things but one of the genres I was never keen to try was chick lit. It seems to have a poorly written, unimportant kind of image and maybe I thought I was above that. Shame on me. I've discovered that chick lit doesn't have to be badly written and it's not unimportant and trivial at all. Take
The Secret Dreamworld of a Shopaholic
by Sophie Kinsella. Yes, it certainly does concern a bit of a silly girl who can't control her finances and no, I don't have a lot in common with her. The book was certainly a
lot
of fun to read too but that doesn't make it trivial. Underneath the absurdity of this girl's life was a very serious message about debt, the role of banks in encouraging the weak willed, and the role our parents play in our adult attitude to money. I liked this book very much indeed. I liked the fact that it was a book for women, about women's lives, and written with humour - a lot of the British references made me smile. And I don't understand at all why this has to be despised. You can't even fault the writing as Kinsella's writing is pacey, has style and a lovely sense of irony. So, what have I learnt? Not to be so bloomin' judgemental, that's what. I have the next one,
Shopaholic Abroad
, on my tbr pile.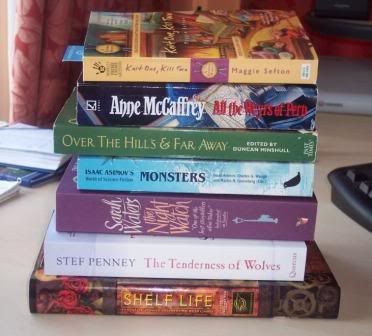 Book purchases for part of Feb. and March. My current read is on the top. *Waves to
nakeisha
*. Several are charity shop buys - the Anne McCaffrey I already had but didn't care for the cover. You're pretty sad when you go about replacing books because of the cover, imo. ;-) Anyway, moving swiftly on... I'm most pleased with
Shelf Life
edited by Greg Ketter. In several places I found Neil Gaiman listed as the 'author'. In point of fact it's an anthology and he is one of the contributors. How pissed must that make you as the editor to see that? Anyhow, it's an anthology of Sci Fi, Fantasy and Horror stories all based around bookshops. It was not easy to find and I paid more than I should have on eBay but I'm still chuffed to bits to get it.
Happy Reading. :-)