The Wind's Twelve Quarters - Ursula Le Guin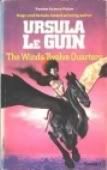 Okay... so... Ursula K. Le Guin. A big favourite of mine. I have many of her books still to read and happily nabbed this one when I saw it in a charity shop.
The Wind's Twelve Quarters
(title taken from A.E. Housman's
A Shropshire Lad
apparently) is an anthology of her very early work and as such a few of the stories are precursors to later works such as
The Left Hand of Darkness
or
Rocannon's World
. So it was quite interesting to see what they became, although in the case of the two Earthsea stories I don't know what they became because I haven't read The Earthsea books yet. I'm now putting that right. In fact, I liked them enough to get the book out and start it immediately and as it's part of my Chunkster Challenge then that's fine and dandy. The other one I really liked in this anthology is
Nine Lives
a tale about cloning. It's hard sci fi, rather thought provoking, and made me realise I don't read enough hard sci fi as opposed to fantasy. To tell the honest truth that's really because I'm not sure what I should read. Anyway, a good anthology if not quite up to the standard of
The Birthday of the World
or
Changing Planes
- but then you wouldn't expect it to be.