Quartet in Autmun - Barbara Pym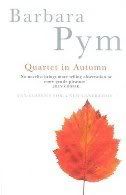 I've never read anything by Barbara Pym, always meant to, never got around to it. So, I grabbed this one in the library last week and put the matter right at long last.
Quartet In Autumn
is about four office workers who work together in the same department and are all close to retirement. Letty, Marcia, Edwin and Norman are what you might call 'invisible' to the world around them. All single, rather on the boring side and, worst of all, 'old'. Letty and Marcia retire at the same time and the story follows what happens to them - Letty's decision to move from her flat, Marcia's steady decline, and how the two men reluctantly become involved. We learn of Edwin's obsession with the church and his search for accommodation for Letty when the friend she plans to live with falls in love with the vicar. It's all very British and everyone is very reserved in a way that I'm not sure people are any more - and yet...
It's a simple tale, beautifully told, wickedly observed with a lot of humour to balance the poignancy. The sadness of the human lot is illustrated in a very straightforward and unsentimental way; the author never seeks to judge, merely to say, 'This is how it is for some people'. The book is set in the 1970s and it would be easy to say, 'Oh well, things have changed'. They have indeed but, as someone once said, 'The more things change, the more they stay the same'. These people are of a type not seen very much these days but loneliness is still out there in all its different guises. A wonderful book, well worth reading.