Occasionally I toodle around the book blogs of which there are many online - 'Blogger' seems to be the place of choice for many of them - and it passes a pleasant hour. One lady was talking about a reading retreat she'd been to, somewhere on the Welsh coast. You were free during the day to read, walk the coast path, whatever, and in the evenings, after a nice dinner, short stories and poetry were read aloud and discussed. What a lovely break to go on! It sounds like absolute heaven, so relaxing and in such beautiful surroundings too. Am wondering why I've never heard about this before.

My last two books for April were quick, easy reads. I've got several books lined up for May but being anal didn't want to start them until May was actually here. So these two were fill-ins, kind of thing.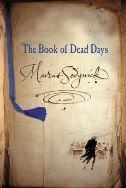 The Book of Dead Days by Marcus Sedgwick was a run-of-the-mill young adult fantasy type thing. That's not to say it was really bad, it wasn't, just fairly predictable. It had the usual cranky wizard type, a youth known as 'Boy' who ran errands and hadn't a clue who he was, and his friend and sort of love interest, 'Willow'. The wizard had made a bargain with the devil when he was younger and the devil is due to collect unless a particular book is found. The canals under the city were interesting but hardly original. Not even sure if I'll seek out the sequel when there are so many other things to read.






More wonderfulness from Professor McCall Smith. It would be hard for me to love this series more than I do. There is nothing about them that I don't like, they're just perfect, imo. I think I read them as much for Mma Ramotswe's philosophising as for anything else. And the delightfully sly humour of course - such lovely little digs at the male sex, so subtley done. Brilliant. I'm trying to make the books last but it's not easy.



The Wind's Twelve Quarters - Ursula K. Le Guin
The Earthsea Quartet - Ursula K. Le Guin (Chunkster challenge)
Quartet in Autumn - Barbara Pym
Saplings - Noel Streatfeild
The Book of Dead Days - Marcus Sedgwick
The Kalahari Typing School for Men - Alexander McCall Smith

Six books this month, though one was four in one but as it's part of my Chunkster Challenge it'll remain as one. I'm up to 25 books so far this year and that's a total I'm very happy with. Choosing a favourite from these six is hard but would probably go with Saplings by Noel Streatfeild for the impact it had on me. My plan for this afternoon is to sit with the Persephone catalogue and pick out a couple as my birthday pressie to myself. I don't imagine the choice will be an easy one.