Dissolution - C.J. Sansom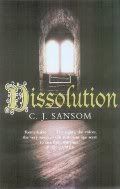 It's frustrating when you're reading a good book that really you haven't got time to read. The first week of May was busy, consequently it's taken me ten days to read
Dissolution
by C.J. Sansom. Too long, a good whodunnit should be read much quicker than that - by me anyway because my addled brain is inclined to forget important details. Never mind, I got there in the end and it was well worth the trip.
Anyway, this one was recommended to me by
rosie55
. I'm not the biggest crime reader in the world but I do enjoy the odd historical whodunnit and used to read a lot of Cadfael. This series is more complicated and all the better for it, much as I used to like Ellis Peters' books. The setting is England in the 1530s. Henry VIII is on the throne and he's dissolving the monastries. Matthew Shardlake, reformist, lawyer, hunchback, and all round crabby individual, is sent by Thomas Cromwell to investigate the murder of one his commissioners at the monastry at Scarnsea on the south coast. It's mid-winter and his welcome is much like the weather - freezing cold. The monastry is full of all kinds of odd-bod monks and Shardlake is hard-put to find out what's causing the atmosphere of intense menace and who the murderer is.
Shardlake is an excellent detective... I liked his crabbiness; the fact that he is flawed both mentally and physically made his character very real to me even though at times I questioned his decisions and motives. But that's how people are, so I'm quite happy with that. The historical detail included is very much part of the attraction for me too... I lapped up the background but it was never intrusive, always 'just right'. An excellent, excellent read. I've already bought the second one. What have you started
rosie55
???