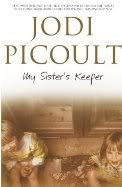 When I booked My Sister's Keeper out of the library the library assistant, unusually, began to talk. They don't usually. It's not that they're a surly lot but they're not particularly forthcoming either - about anything really. Anyway, she was pleased to see I'd picked up a book from their author of the month because her and her friend had nominated Jodi Picoult as they like her writing so much. The reason *I* had one of her books was that my eldest daughter recommended her and in particular, this book. It wasn't until now that my library actually had it - presumably for an author of the month they draw in books from around the county. So, I was pleased to get it and the library assistant was pleased I took it... thus, two happy people. :-)


The book is fairly well known so a lot of people will already know it's about two sisters. One, Kate, has the worst kind of leukemia, the other, Anna, was conceived especially to keep her alive by supplying blood cells, bone marrow and so forth. And then a kidney is required but Anna is now 13 and is questioning what kind of an impact this would have on her life and whether she wants to continue doing this. She hires an attorney to obtain medical emancipation for herself and a court case ensues.

You are given this story in dribs and drabs from most of the people involved; told in the first person, they get chapters to themselves. You hear of the awful choices the parents, Sara and Brian, have had to make, the kind of life Anna has been living, the reasons why the eldest boy, Jesse, is completely out of control. There is even a side story concerning the attorney and his ex-girlfriend who is also involved in the case - I couldn't decide whether this was one distraction too many to be honest.

I was brought up with a disabled brother. Not, I should add, in any way shape or form as sick as Kate is, in this story, and nor was I ever asked to donate anything. But there were things in this book which rang very true. When you grow up with a disabled child in your family much of what goes on, the way you have to live and so on, is about them. What Anna wants is to come first once in a while, for someone to ask her if she wants to do these things for her sister and not just assume. I understood *completely* Anna's point of view. And then of course, as a parent myself, I also completely understood her parents' dilemma. There are no easy answers in this story - none whatsoever.

But things are never quite what they seem and there are twists and turns in this book that took me by surprise and a final twist that nearly finished me off. It's a page turner, no doubt about it. I won't say I *enjoyed* it, rather I was rivetted by it. I love a book that makes me think and think hard and this one certainly fitted that bill.

A bit later:

Well, between writing this this morning and now, I've been to the library. There, checking in the books, was the same library assistant. Did I enjoy the book? she asked. So, we had a nice discussion and she recommended another Picoult book about an Amish family, Plain Speaking I think she said it was called. But they didn't have it. I'll have to look that one out somewhere as it might appeal with its Amish theme. Instead I got Keeping Faith which also sounds pretty good.