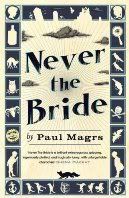 Difficult to know how to describe this one. 'Quirky' would be my best shot. I suppose it would be called a black comedy, a Gothic comedy, whatever, but rest assured - Never the Bride by Paul Magrs is definitely different.

Brenda has moved to Whitby. (If you're thinking the location might be relevant, you'd be quite correct: it is.) She's looking for a quiet life, running her B&B and eating tasty lunches at Cod Almighty, the local chippy, with her best friend, Effie. But Brenda is not all she seems and neither is Effie. When you add these two, and their secrets, to a mix of satanic beauty salons, illegal aliens, the horrors of The Christmas Hotel, and the dark charms of Effie's new admirer, things become anything *but* quiet.

This one was a quick, amusing read. Fun for those who like books about books, sort of... it's hard to say anything without giving things away to be honest. I enjoyed it and sense a new series from an author new to me but whose books I would be happy to read more of.