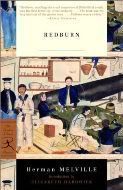 This book was so good, I'm really not at all sure where to start or what to say. Um... first of all it's by Herman Melville, the American author most obviously famous for the novel, Moby Dick. Sadly, I don't recall whether or not I've read that particular book, I know it's ridiculous but I don't, so there you go. Anyway, I picked Redburn up in the library and took it because it was both historical and nautical - a good combination, imo.


The first thing to know about this story is that it's largely autobiographical. Melville, like his hero, Wellingborough Redburn, lost his father at an early age - upon which the family became impoverished - and embarked on a voyage from New York to Liverpool, serving as a 'boy' on a merchant vessel. Redburn is very much green about the gills - a nicely brought up young man, albiet poor, a member of the temperance society and so forth. He's in for some shocks. The crew of The Highlander are a motley bunch, the dregs of society, and they don't take to Redburn. He suffers acutely and the first half of the book catalogues the daily abuse dished out by the sailors on the trip across the Atlantic. Arriving at Liverpool we then see this city through Redburn's eyes. The docks, the various ships from all over the world, the poverty of the areas around the docks etc. He meets Harry Bolton, a fashionable but penniless young man,(who happens to be homosexual) and has various adventures with him, after which Harry sets sail with Redburn for the return trip. This trip is dogged by bad weather and this time we hear of the plight of the steerage passengers as compared to the 'cabin' passengers - those who can afford good accommodation and decent food. Eventually the voyage comes to an end and that brings relief, a certain degree of injustice and ultimately - sadness.

I thought I would probably enjoy this one but was unprepared for how *much* I would like it. It is absolutely excellent on the subject of seafaring in the mid-1800s, you actually feel as though you are there. All human life is here too from the mean minded captain to the tyrannical 'Jackson' who rules the crew not by rank but with the force of his evil personality. 19th. century Liverpool is brilliantly portrayed too and the deprivation and squalor is heartbreaking to read about. Everything about this book is just perfect. It's very readable and full of fascinating facts and observations. Perhaps I'd better search out Moby Dick....