Botswana TIme by Will Randall
I think I've got a bad case of Book Holder's Hand. *g* I know why. Our library laminates the covers of its paperbacks and I don't blame them for that as the books wouldn't last long if they didn't. But what happens is that if the book is bulky and heavy the laminated cover digs sharply into your index finger as you're trying to hold the thing open to read it.
Deathscent
my last book but one was just such a case and that's the reason for the soreness, even after several days. Perhaps I need to find again the site someone recommended where they sell devices for
old fogies
people like me to help hold books open.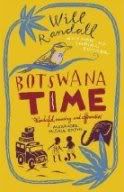 My latest, rather quick, read was
Botswana Time
by Will Randall. The author is a teacher who has taught in various places around the world. This is his third book and, as the title suggests, is about his time in Botswana in Africa. It was charming. Utterly engaging. A light, easy read but also with its darker moments. This extract had quite an impact on me - the author was helping decorate the school ready for the autumn term and unwittingly found himself thought of as the boss.
"What also became increasingly clear to my great discomfort, a discomfort that would remain with me throughout my stay in Africa, was that my fellow workers found it only too easy to accept me in this new position because I was white. At that moment I realised how profoundly and indelibly the colonial history of the past two centuries had subjugated African people. Somehow, without even realising that it was happening, individuals, particularly poorly educated ones, allowed Westerners to call the shots, despite efforts by certain governments to adjust the balance. I wished then, as now, that this was not so."
Thought provoking.
I love reading about many far flung places without necessarily wanting to
go
there. India for instance. Africa is the exception - I really would like to travel to that continent 'one day'. I shall also be getting Will Randall's other two books,
Solomon Time
and
Indian Summer
.
Next up -
Fingersmith
by Sarah Waters.