Lone Traveller - Anne Mustoe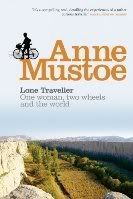 "You don't have to be twenty, male and an ace mechanic to set out on a great journey. I've cycled round the world twice now. I'm not young, I'm not sporty, I never train and I still can't tell a sprocket from chainring or mend a puncture."
So speaks Anne Mustoe, retired headmistress, at the start of
Lone Traveller: One Woman, Two Wheels and the World
. As usual - arse about face - I found myself reading the second of her 'round the world trips'. The first had been west to east and this was east to west. I'm assuming the first one was a straightforward account, whereas the author tells us that this time she wanted something different and decided to concentrate more on the nuts and bolts of the journey - what she packs, her arrangements, how she learns a tiny bit of the language of each country she's going to travel through etc. The journey is told in anecdotal form too, flashbacks, not in chronological order. Thus you get chapters entitled, Good Days, Bad Days, Terrible Terrain, Men and Other Animals, Police and, within each chapter, several countries might be dealt with. It's an interesting approach and I found I liked it a lot.
It's probably unfair of me to compare this book with the one I've just finished,
In Ethiopia With a Mule
by Dervla Murphy as they are rather different in scope. Nevertheless I should say that I like Anne Mustoe's style much more than Dervla Murphy's. I found her more interesting and easier to read, her experiences were fascinating and, for someone contemplating cycling around the world, invaluable I would think. (Not that I am... 8-S) I already have the first one to read and see that there are others too to keep me going.