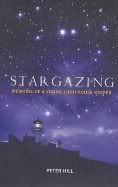 The author of this book, Peter Hill, is half Scottish, half Australian and was brought up in Glasgow. Aged 20 and at art school he decides to spend the summer as a relief lighthouseman. What follows is an account of his time on three lighthouses - Pladda in the Firth of Clyde, just off the Isle of Arran, Ailsa Craig, also in the Firth of Clyde (and famous for all those golfing broadcasts from Troon) and Hyskeir in The Hebrides.

In a way this is a bit of a coming of age story. In 1973 Hill was 20 years old - exactly the same age as me. Thus, many of the things he talks about I could identify with or remember well. The Vietnam War for instance and the thought that we might be looking at the end of civilisation as we knew it if it escalated. Watergate was also going on and swamping the news coverage. Because of the ages of the other keepers Hill finds himself with some growing up to do but rises to the challenge very well. Pervading the whole book though is the knowledge that lighthousekeeping, as a way of life, was in its final death throws and automation was about to wipe out a complete occupation. He felt it was a shame and I think anyone reading this lovely book would feel likewise.

This book is from the library and I'm quite loathe to give it back! It was a fascinating, gentle, evocative read wherein the islands and lighthouses were as much the stars as the narrator. Delightful.