Time for some more bookporn! Mainly because it's been about six weeks since I did some, so it's time, but also, when I looked I realised there were er... quite a lot. Seems I went a bit berserk after we got back from London and made up for the fact that I was in the capital and only bought six books. So er... not one but
two
photos are called for this time. Ooops.
The bottom three are new, the top three - charity shop or eBay/AM buys.
Mistress of the Art of Death
I bought because its author, Ariana Franklin is actually a new pen name for Diana Norman, one of my favourite historical writers.
Needle in the Blood
, an historical about The Bayeaux Tapestry, has been recced so highly in so many places I had to get a copy to see what all the fuss was about.
The Blood Doctor
was recced by
toomanybooks
, the Richmal Crompton was another rec from a book blogger, and
Crocodile on the Sandbank
is the first Amelia Peabody book and will be a reread for me before I sample the rest of the series, which I've fancied reading for ages.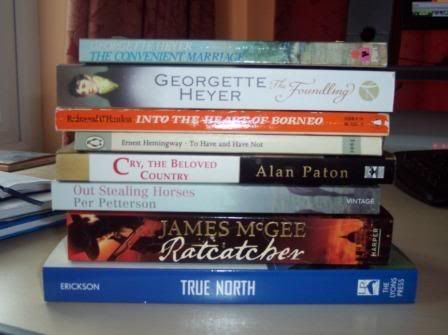 Again, a mix of old and new.
True North
is a travel book about a chappy who takes a seaplane journey over Alaska, The Yukon and The Northwest Territories. Again, seen recced on a book blog and irresistible to me who has zero resistance when it comes to books.
The Ratcatcher
is
goodnightlady
's fault,
Out Stealing Horses
and
Cry the Beloved Country
are two more book blog recs. The next two are sundry charity shop buys and the top two are, of course, Georgette Heyers as I'm trying to add to my puny collection of 15. (There are over 50!)
Perhaps I need to spend a bit less time reading other people's book blogs...