The Book of Lost Things - John Connolly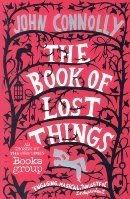 This is my first official book for the Halloween challenge I'm doing. I added this one to my book pool as an after-thought after reading so many good things about it and I'm glad I did.
The Book of Lost Things
by John Connolly is about twelve year old David who loses his mother through illness just at the start of World War II. Rather too soon for his liking his father finds another wife, Rose. Determined not to accept her overtures of friendship David retreats into his books of myths and fairytales and begins to hear them whispering to him at night. Not long after he sees The Crooked Man for the first time. One night a German bomber crash lands in the garden and, outside and facing certain death, David makes a dash for a hole in the wall and enters, via a tree, another land. This land is peopled by characters from his fairy stories and other things much worse and far more threatening, including The Crooked Man. David needs to find his way home but there are those that don't wish him to do so and who try to stop him getting to the king's palace to see The Book of Lost Things, which could provide him with a route back to his own land.
Well, this book wasn't exactly what I thought it would be but then I'm not sure what I was expecting so that's probably a daft thing to say. The first few chapters were certainly very sad and so realistic that you soon realise that although this is a book about a child and about children's stories, it isn't really a book for young children. Older children, yes maybe, but not younger ones. And don't look for happy endings to each section. As David travels towards the palace he has many encounters and although most are character building they're not necessarily happy. Snow- white, for instance, is no Disney heroine! Although the seven dwarves are still a great comedy act... And there are some very dark things inhabiting this realm which don't appear in any fairy story. Where they come from I'm not saying but the wolves are er... interesting.
This is a beautifully written book and one that's incredibly easy to read. There are twists and turns towards the end which I really wasn't expecting. I particularly liked the actual ending which was both happy and sad in equal measure and that suits me fine. That life is like that is a discovery that David makes for himself and you find yourself cheering him on all through the book - but also weeping for him at the start when life is so hard. It's that kind of book and I'm so glad I squeezed it into my book pool for the Halloween challenge.
Next up -
The Historian
by Elizabeth Kostova.