Crocodile on the Sandbank
For a person who doesn't reread much I've actually done my fair share of that this year. Here's another example,
Crocodile on the Sandbank
by Elizabeth Peters.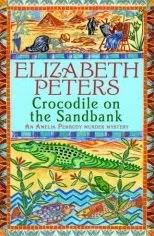 To be be fair my first reading of this book has to be about 25 years ago. Back then I got it from a library - would have been either Newton Abbot or Barnstaple - read it, loved it, hoped there would be more, promptly forgot all about it. Until several years ago when I began to wonder if the series I was seeing and hearing about was connected in any way to that long ago book. It was and at last I've got around to rereading the first one so I can read a few of the follow-ons. And there are plenty to read - eighteen I think! Ms Peters has clearly not been sitting around filing her nails.
Anyway, the story concerns a Victorian woman of independent means, Amelia Peabody. She's one of these forceful, no-nonsense women in her mid-thirties who feels herself to be plain and believes she will never marry. On her way to Egypt she rescues Evelyn Barton-Forbes, a ruined woman, and the two of them proceed on to Egypt as companions. Much skulduggery then ensues as they encounter the Emerson brothers, Radcliffe and Walter, who are in the middle of an archaeological dig. The women join them on the dig. Then a mummy makes its appearance - up to no good surely *g* - and Evelyn is pursued by said mummy, and sundry suitors, until eventually all is revealed to everyone's satisfaction.
I liked this every bit as much the second time of reading as the first. It really is great fun. Amelia is an excellent heroine with her no-nonsense approach and I like the fact that Radcliffe is every bit her match and doesn't let her walk all over him. The crime element is not that difficult to work out but that didn't worry me; it's the kind of book that's more about the characters than the plot. How many of these I'll read I'm not sure. I have several coming from Amazon and a couple of later ones already here. I'm just not sure whether the quality is maintained up to book 18. Has anyone here read them all?
Remembrance Day is fast approaching so I thought I'd make my reading fit the occasion. I'm reading
The First Casualty
by Ben Elton, which is a WWI crime story. So far it's excellent. In fact I think it might be a crime reading month for me as I also have two Book Crossing crime books by Julie Kaewert to read, and
Still Life
by Louise Penny from the library. It's set in a small village in Quebec and was recced quite highly so I thought I'd give it a go. Of course... I never read crime books. *cough, cough*.