My latest read is one of the library books I trekked all over the county to find. It's Still Life by Louise Penny. I saw this recommended on one of the book blogs and, for some reason, felt I just had to read it.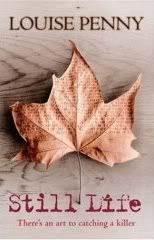 A little about the book. It's set in a small village, Three Pines, in southern Quebec. Jane Neal is found dead in the forest on Thanksgiving morning; she's been shot by an arrow. Chief Inspector Armand Gamache and his team are brought in to investigate and it proves a difficult case. Jane was an elderly resident, retired school teacher and part of a very close knit group of friends. It soon becomes clear that the murderer has to be someone local, a friend therefore. Secrets begin to emerge, as they are wont to do, and Gamache has his work cut out to sort out the facts and solve the mystery.

This was such a good read. When I was a teenager I had this thing about wanting to emigrate to Canada. I never did of course but books about Canada have ever since held a special fascination for me. I had a very real sense of place from this book. The author made me feel as though I were really in Three Pines in the autumn and that's very skillful in my opinion. As to the plot, well, I didn't guess whodunit, I was quite wrong. LOL. I very much enjoyed the character of Armand Gamache and got close to all the other characters in the village; I even felt I knew the dead woman very well. And there were unusual things about the book which I won't go into but which all added to my enjoyment. I definitely plan to read the two other in the series, as soon as can get hold of them - the next is a winter story and the one after that is set in spring I believe.