The lesson to be learned from informally doing the 'chunkster' challenge last year (details on my user page) is that choosing twelve books is too many. I read exactly half of them, which is pathetic really, but I'm a real creature of moods when it comes to choosing what I'm going to read next and, for some bizarre reason, I hardly ever seemed to feel like reading what was on that pile.


Soooo, lesson learned, eh? Well, yes. And no. I'm going to do another challenge next year but at least it only requires six books to be read. It's called 'What's in a Name' and what you have to do will be obvious from the list below:

1. A book with a colour in its title:

Anne of Green Gables - L.M. Montgomery

2. A book with an animal in its title:

River Horse - William Least Heat-Moon

3. A book with a first name in its title:

Kim - Rudyard Kipling

4. A book with a place in its title:

Zennor in Darkness - Helen Dunmore

5. A book with weather in its title:

Frost at Morning - Richmal Crompton

6. A book with a plant in its title:

Compass Rose - Ursula K. Le Guin

And a photo. :-)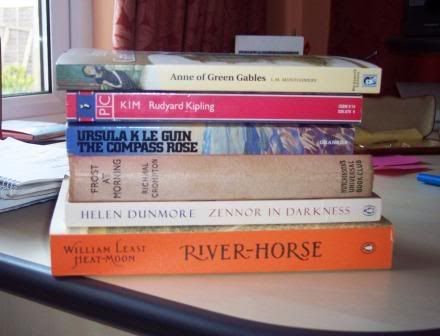 Oh and it's a challenge that lasts all year. So that's okay then. :::snorts behind hand:::

And another photo - recent acquisitions.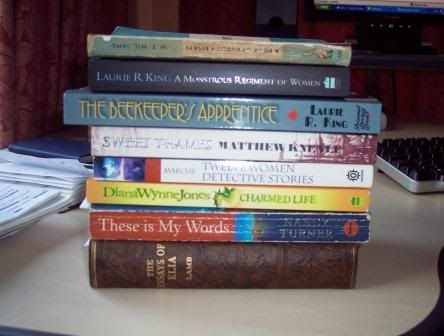 A varied lot, mainly eBay or charity shop buys. The top one is book of essays I got off eBay and was much tattier than I expected when I opened the package. Daughter number two was watching and said rather drily, 'Couldn't you afford a new one then, Mum?' Ever feel misunderstood...