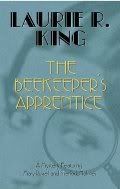 I feel like I want to really gush about this book. Several people recommended Laurie R. King's 'Mary Russell' series and being a bit of a Sherlock Holmes fan I had a feeling I would probably like them. Like? Make that 'love'! I adored this first one, .

Mary Russell is fifteen and lives in Sussex with her despicable aunt. One day while out walking she stumbles across (literally) a retired Sherlock Holmes watching bees. Recognising another with a similar mind to his own the two strike up a friendship and Mary eventually becomes a kind of apprentice in the crime solving business. It's while Mary is at university that a diplomat's daughter is kidnapped. Holmes and Russell work together on the case and bring it to a conclusion. But have they? And who is trying to kill them, and why?

It was sort of weird at first to be reading a Sherlock Holmes book that was a)by an author other than Conan Doyle and b)not narrated by Watson! It's not quite the same, but then you wouldn't expect it to be and I personally was quite happy with the change in style, though perhaps not every dedicated Holmes fan would be. Depends on your preferences really. It should be said too that the author is American and there are a few Americanisms in the book (not many). But as Mary herself is half American I didn't find them inappropriate and nor did they throw me out of the story.

I liked the portrayal of Holmes and found his friendship with Mary quite believable. It was nice, in fact, to see him as a human being with feelings and emotions and the ability to become attached to someone. I already know how the relationship changes and can't wait to read about how it happens. The crime element of the novel was also excellent; I tried to guess who was behind it all and got it quite wrong. The author does a great job of building to a climax and you fair gallop along with her to the end. Honestly, I can't recommend this book highly enough and am so pleased that there are many more in the series to read. Book two, A Monstrous Regiment of Women, is already on my tbr pile and will be one of my first reads for 2008.