Should I apologise for yet more Sherlock Holmes?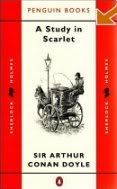 Like an idiot I hadn't realised there was a Sherlock Holmes book where the two of them met! I suppose I thought they had known each other since school days or something. Not so. And A Study in Scarlet is the book where it's explained that they took up lodgings together after Watson came home from Afghanistan, and didn't actually know each other previously. It's wonderful how bemused poor Watson is by his unusual house-mate and how he strives to get to bottom of what it is Holmes does for a living. When he eventually discovers it he then finds himself embroiled in investigating the murder of a man called Drebber from Cleveland, Ohio. Watson is astonished at some of Holmes' methods but, when the case is brought successfully to a conclusion, has to admit that they work. The last third or so of the book deals with the back story of how Drebber came to be murdered and takes place in Utah. It then moves back to London for Holmes to explain how he solved the case.

I don't know why I've never read this before. I wish I had as it explains a lot but it's also a really good read. Not perhaps on a par with The Hound of the Baskervilles but not bad. When the story moved to Utah I thought it might not be as rivetting but in reality it got even better! The tale of skulduggery in the Wild West reminded me a bit of the anthology I've just read by Ambrose Bierce. I wasn't that struck by that so why I liked Conan Doyle's version a lot more I'm not sure. It seems I'm nothing if not contrary.

And a bit of a complaint. I thought after reading this that I'd watch the dramatised version from my new boxed set. So, what did I find? It's not there. They either didn't make that one or it isn't included. Very disappointed about that.