My New Year's resolution was to read more short stories. I have loads of anthologies on my tbr mountain but for some reason I've ignored them for years. The plan is to read one or possibly two a week. It'll be interesting to see how it goes. The first two under the cut.


They by Rudyard Kipling was my first story for this week. It's a supernatural story. Or is it? This is such an ambivalent piece of work that it's hard to tell. The narrator is driving around Sussex in the early days of the motor car. He takes a wrong turn and goes careering down a steep hill in some woods and finishes up in the garden of a large and beautiful house. There are many children, at least he can hear them and catches brief glimpses but... The house is owned by a blind woman and he is made welcome and returns several times. It was hard to know what to make of this one but I liked it for its 'other-worldliness'. Nice atmosphere. The story is available to read online here.

Uncle Dobbin's Parrot Fair by Charles De Lint is the first story in his Dreams Underfoot anthology. It's part of the author's 'Newford' series of books; they're 'urban fantasy' and completely new to me. It's hard to know how to describe this one as it meanders all over the place and you're never quite sure what's real and what isn't. A woman called Ellen picks up a punk youth after he's been beaten up and discovers that 'something' is shadowing him. Ellen likes to read an author called Christy Riddell who writes down myths and legends and talks of things that don't exist. Or do they? As I said, it's hard to know. And, once again, I liked that ambivalence. I've just started the second story, The Stone Drum, which takes place within one of Riddell's books and concerns one of De Lint's ongoing characters, Jilly Coppercorn. I have a feeling I'm going to really love this series and universe.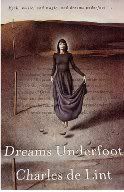 To be x-posted to
365shortstories.