August so far...
I've reached book 44 in my drive to read 50 books this year, so it looks as though, barring some catastrophe, I shall make it. So far, the vast majority of them have been worthwhile reads and this, I think, is mainly because I've taken notice of recs from people on my flist and kept an eye on what people on the book communities are reading. I'm also a fairly easy to please sort of reader I should add. Though perhaps it's just that I'm careful what I pick up and therefore tend to like what I pick up. Well,
I
know what I mean...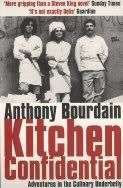 First up this month was
Kitchen Confidential
by American chef, Anthony Bordain. I'm a bit of a foodie so this glimpse behind the scenes of the American restaurant scene was rivetting. Mainly, this is about the author's life, warts and all (and there are a *lot* of warts), but it's also a vivid description of the kind of people who work in the kitchens and their frenetic existance. And tips. Like don't order fish on a Monday; watch the mussels; watch the hollandaise sauce. Sword-fish? Well, they can have three foot long parasitic worms in their flesh apparently. Sounds nice... A good book, but probably not for the faint-hearted.
I kept seeing
The Amulet of Samarkand
by Jonathan Stroud mentioned on the book communites so when I saw this YA book in the library recently I grabbed it. It's a fantasy yarn about a young wizard who calls up a 'djinni'... a demon. Why, and what the consequences of his actions are make for a pacey, imaginative yarn that I gobbled up in two days. Not bad. I shall look for its sequel,
The Golem's Eye
in the library tomorrow.
Next up - well, I think I might try
The No.1 Ladies' Detective Agency
by Alexander McCall Smith. Maybe...