It's recent acquisitions time. I've been trying not to buy quite so many books but I'm sad to say that although the spirit is willing, the flesh is pathetically weak and feeble.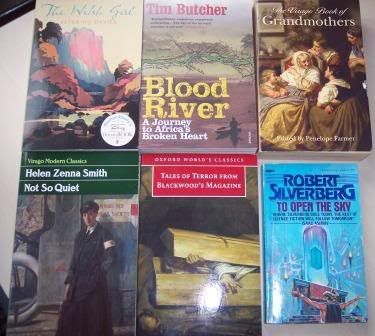 The Welsh Girl (wonderful cover) I've seen blogged about all over the place and feel sure I will enjoy it; two days after I bought it though, I saw it in the library. :::head desk:::

Blood River by Tim Butcher was a *must buy* for me as The Poisonwood Bible has given me a bit of an interest in The Congo.

The Virago Book of Grandmothers I just couldn't resist when I saw in it the Oxfam charity shop in Honiton. :-)

Not so Quiet by Helen Zenna Smith was also from Oxfam and is about a female ambulance driver in WW1, another 'must buy' for me. Being a Virago book it's pretty certain to be good.

Tales of Terror from Blackwood's Magazine - again from Oxfam (they did well from me on Monday). I've never heard of Blackwood's magazine but there are some unusual authors in this so I'm hoping to find some spooky short stories I haven't already read.

To Open the Sky by Robert Silverberg is an eBay buy and was recced to me by another blogger.

So, that's it. The sad story of my downfall. But oh! just look at them - aren't they gorgeous and shiny and... okay... I'll shut up.