Someone recommended a site called ReaditSwapit to me recently. I think it's for Brits only, possibly a bit like Bookmooch, I'm not certain. But anyway, I joined and it works and is excellent. The idea being that you make a list of books you've finished with and are willing to swap, people see them, choose something they fancy, ask to swap, whereupon you either choose something you fancy from their list or decline. No money changes hands, all it costs is the postage. I joined about a week ago and have already received two books with several more swaps going on. I feel like I'm doing my bit for the planet by recycling a few books. :-)


Not bad this month but that's mainly because several books I've been reading slowly since the beginning of January were finished.

The Poisonwood Bible – Barbara Kingsolver
Trollope the Traveller – ed. By Graham Handley
Good Bones – Margaret Atwood
The Hollow Kingdom – Clare B. Dunkle
The Aye-Aye and I – Gerald Durrell
Dreams Underfoot – Charles De Lint

I enjoyed them all... in fact I would describe it as an excellent reading month. The Poisonwood Bible is probably the standout book for excellence, but I also loved The Hollow Kingdom for pure enjoyment and Dreams Underfoot for the same reason.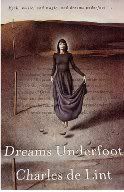 I've mentioned this anthology before but can't remember what I said, probably quite a lot, so I'll try to restrain myself and not go on at too much length. ;-)

This is the book many fans of De Lint's 'Newford' series suggest you start with if you're going to read this urban fantasy series. I don't know if that's right or wrong, only that it seemed to give me an excellent introduction to the people that inhabit this universe. 'Newford' is a city, peopled by all kinds of weird and wonderful characters who reoccur and are connected throughout the books. Christy Riddell, a writer and collector of folk tales and myths, is a focal point but so is a friend of his, Jilly Coppercorn, who is close to Christy's brother, Geordie. Their friends come into it and there are many stand alone stories but always there is a link somewhere. And always there are fantastic things going on that shouldn't be real but are. It sounds confusing but I can promise you it's not. If anyone had told me I would read and love urban fantasy this much I would have laughed at them, but I do! I certainly plan to read a lot more in this series and am waiting for The Ivory and the Horn to arrive as we speak. So pleased to have discovered these books.