Book mags and The No.1 Ladies' Det. Agency
Magazines about books with reviews and info seem to be very thin on the ground. Waterstones put out a good one every few months but, unless you subscribe, you have to be lucky to catch it: they sell out very quickly. The newspapers also do various weekend supplements which are quite good - we get The Telegraph on Saturday and their Arts supplement is not bad at all. And I spotted a copy of a new one (I assume) in the library a few weeks ago. It's called 'newbooks' and their website is
here
. They'll send you a free sample copy of any of their three book magazines; you do have to print out the form and send it snail-mail but it works. (Though, sadly I think it may only apply to Brits.) Mine arrived this morning after a wait of only a couple of weeks. Haven't had a chance to read it yet but it looks excellent. I'll probably subscribe and possibly get their children's book magazine for my grand-daughter.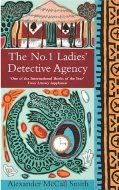 Okay, well here it is. :-)
The
book that elicited quite a bit of chat on my last post. Given that I respect the opinions of the folk who didn't care for
The No.1 Ladies' Detective Agency
, and tend generally to agree with them, I was fairly sure I wouldn't care for this.
Wrong.
I loved it. Oh dear... I'm going to account for this by saying that a) if you're not much interested in Africa this book is unlikely to appeal and b) it isn't really a traditional crime book. For me, having recently read
Botswana Time
by Will Randall, it resembled that more than anything. A kind of a travel book with a few interesting stories thrown in, a bit of intrigue, and some nice humour. Also, interestingly, it brought a real lump to my throat twice - and that's unusual for me. I have the second one from the library and I'm wondering if I'll like that as much.
We caught the market at South Molton today and found a very nice secondhand book stall lurking there. Here's what I picked up:
Sea Dragon Heir
by Storm Constantine. First of a fantasy series by an author I haven't read but seems well regarded.
West With the Night
by Beryl Markham. A Virago Travellers book, biography, about the author's life in Africa.
Storm Chaser
by Paul Stewart and Chris Riddell. YA fantasy book. Total coincidence but this is part two and part one is sitting on my library pile. I didn't recognise the connection until I got home and really looked at it.
Poems for 7 Year Olds and Under
chosen by Helen Nicoll. Okay, this isn't for me. *G* The little grand-daughter is displaying a real taste for poetry and this looks delightful. I know she'll love it.
And nabbed from Amazon Marketplace this week:
Zennor in Darkness
by Helen Dunmore. Saw mention of this on
toomanybooks
, looked it up on Amazon, liked the sound of it and nabbed a copy. The wonderful power of book blogs. :-)