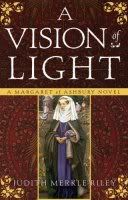 A good historical is one of life's little pleasures and this one is definitely a good 'un. A Vision of Light is set in the fourteenth century when a woman, basically, belonged to her husband. Margaret of Ashbury wants to write her memoirs (even though she's only 23 or something) but she can't read or write so she hires a friar, Brother Gregory, to do it for her. It turns out she is a fascinating woman with all kinds of secrets, not least the fact that she's had a vision of light which turned her into a 'healer'. An absolutely excellent historical this one. Full of detail and good characterisation - I loved Brother Gregory even though he was, essentially, quite clueless and allowed the wonderful Margaret to run rings around him without realising she was doing it. Quite a feminist book in a way, but subtly done. It's part one of a trilogy I think, and the second part in this format comes out in September so I'll get in line for that.

I raided the charity shops in Street today and left no books behind. ;-) Here's what I got:


Ship of Magic -- Robin Hobb. The first in her 'Live ship traders' trilogy.

The Weirdstone of Brisingamen -- Alan Garner. *Someone* on my flist recommended this author to me but I'm not sure if this person is on my book blog flist... Anyway, this YA book looks like a cracker!

Ordinary Families -- E. Arnot Robertson. A Virago Modern Classic which looked good so I nabbed it. I've never heard of her but apparently she was one of the most popular novelists of the 1930s and 40s. Just goes to show how ignorant I am.

Dragonsong -- Anne McCaffrey. Yaaaaaaay!!! The last of the 'Pern' Harperhall trilogy found cheaply. I knew if I waited long enough I'd get it.

A Passage to India -- E.M. Forster. So I can stop taking this out of the library now and read it when I'm in the mood.

The Heart of Darkness -- Joseph Conrad. One of those books I should have read but never have.

Down Under -- Bill Bryson. Needs no explanation, everyone's heard of him. Good find.

All in all, about six quid. How else could you spend that amount and get so much pleasure? Might be best not to answer that.............


Current read: Swahili For the Broken Hearted -- Peter Moore. Travelling from Cape Town to Cairo.