Traitor's Moon by Lynn Flewelling
For those in the UK who have access to an Otakars they're doing a small range of 99p books entitled 'Try me'. I was in there yesterday looking for a YA book called
The Book Thief
by Markus Zusak (they didn't have it of course) and when I turned around there was Hubby clutching several books. Now, book buying was never normally his thing, he believes in libraries (so do I as a matter of fact) but lately, encouraged by me, he's been buying a few. And there he was clutching three and I thought, 'Oh God, I've created a monster...' *g* Not so. He'd spotted the 99p books and nabbed a few. The choice was quite eclectic, whodunnits, novels etc. I nabbed
The Celestial Omnibus
by E.M. Forster and
Death of a Man
by Glen Duncan which appears to be a 'dead chap looking down on family who are still alive and discovering their secrets' kind of a book. Looks good.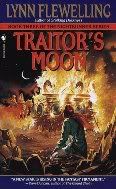 Finished
Traitor's Moon
by Lynn Flewelling at last. It's taken me a while, partly because I was busy with other things but also it was a bit slow going at the start. Loads of names I couldn't pronounce too and that never helps. But, about a third of the way through, something clicked and suddenly it was a page turner. And later it also became a whodunnit and that made it even more fun! I do like this series. It's not great literature or anything, just a damn good yarn with characters I love. I have such admiration for an author brave enough to have two main characters who are gay/bi, (it's a world where all kinds of sexuality is accepted as the norm, though these books are not explicit at all) and who lets her female characters do exactly what the men do. Equality in literature seems to me to be quite a rare thing but it's here, in this series. And there will be more. The author has gone to great pains to stress that this is
not
a trilogy and I gather two more books have been commissioned.
Current read:
Beyond the Deepwoods
a beautifully illustrated children's book by Paul Stewart and Chris Riddell, first part of quite a long series I believe.