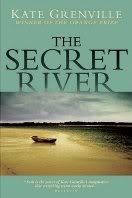 The Secret River by Kate Grenville came via Bookcrossing and
anglersrest as a book ring. I'm so glad I decided to join this one as the book really is a good read. It's about the Thornfield family, their life of grinding poverty in London in the late 1700s and their transportation to Australia in the early 1800s. Anyone interested in the founding of modern Australia or the London of Georgian times would like this I would think, but it is quite sad in places and even tragic in parts. Glad to have read it though.

Current read: Gripping Yarns - Tales of Birds and Birding by Bill Oddie. This is a republishing in book form of his monthly column of 5 years from Birdwatch magazine and as I don't get that magazine all the stories are new to me. Great fun so far.