Only four books again this month - so far anyway. An average month for me is usually six but given the changes our household has experienced just recently I should perhaps be glad to have read as many as four!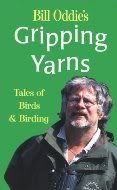 Gripping Yarns by Bill Oddie is based on 5 years of his column for Birdwatch magazine. Very enjoyable. Oddie is such a well known personality that it's easy to read the book in his voice. I take issue with his declaration that he is by no means a twitcher though - so many of the stories were accounts of how much of his life has been spent going after a rare bird 'tick'. *g* A good read... I'm a big fan of Oddie's and found the book both entertaining and informative.




Stone and Sky is part one of the 'Stone' trilogy by Graham Edwards. I saw this fantasy rec. on one of the book comms. and was intrigued enough to get a copy from somewhere or other. The story is thus: Jonah Lightfoot (wonderful name) is travelling in the East Indies in 1883 when the eruption of Krakatoa hurls him and an American woman into another world. The world is called Amara, commonly known as 'Stone'. Basically it's a wall that stretches to infinity at an angle of 10 degrees, fall off and you're dead. It's peopled by others that have also been thrown between worlds, a race of beings whose task it is to repair the wall, and dragons. As one that suffers from a fear of heights I was fascinated by this premise and the world itself, the idea of such a place, is to my mind the strength of the book. The plot and characterisations turned out to be 'okay'. I won't say I was disappointed because I wasn't really. It kept me interested enough to read to the end but I have to admit I was always wishing for something *more*. I found part two in the library and that's fine... but I don't think I would have bought it. Six out of ten.

Current read: Apple of My Eye by Helene Hanff. An exploration of New York by the author of 84 Charing Cross Road. Another book acquired via BookCrossing.