Bookish chat
Our Otakars is now Waterstones and I have no complaints about that as long as they keep it open. It means I can pick up their excellent book magazine without having to trot off to Taunton. AND... they are now doing a loyalty card. Oh Dear Lord.
Picked up a gorgeous edition of
Alice's Adventures in Wonderland
for the grand-daughter for Christmas.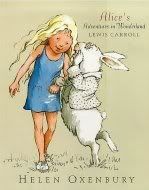 It's lavishly illustrated by Helen Oxenbury... maybe not to everyone's taste as Alice is a modern little girl, but I absolutely adore it and hope the grand-daughter will be willing to share with her grandma. ;-)
Other books acquired today, two of the werewolf series by Kelly Armstrong,
Bitten
and
Haunted
, for Hubby for Christmas, as he likes her books.
The Obsevations
by Jane Harris, which made up the three for two with the previous two books in Waterstones. And from eBay,
The Witches of Karres
by James Schmitz.
Currently reading:
Dead Until Dark
by Charlaine Harris. Enjoying this mix of vampires and crime very much. If I finish it before Christmas I'll probably read
Christmas Angel
by Jo Beverley over the holidays. Sheer unadultered tosh I expect, but Beverley's tosh is superior tosh and I fancy it will suit my mood quite nicely.
I hope those who want books for Christmas, get them. :-)