Dead Until Dark - Charlaine Harris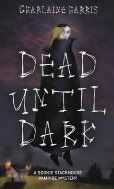 Dead Until Dark
is the first of Charlaine Harris's 'Sookie Stackhouse' vampire mysteries. I thought there were several when there are, in fact, seven! Ah well... nothing like starting a new series... especially when you already have about ten on the go. Anyway, I liked this. It reminded me of a book I like a lot -
Sunshine
by Robin McKinley - and a series I don't - The Anita Blake books by Laurel K Hamilton. To my mind it's better written than the latter, not as well written as the former. Somewhere in the middle then, which is fine. Basicially it's about a waitress who starts dating a vampire. Murders start to occur - all women who also like going with vampires. Whodunnit? I didn't guess I have to admit, which is always a plus. I'm not really a crime reader and when I do read crime it has to have something a bit unusual about it, a theme, historical or, yes, vampires. I already have the next one to read,
Living Dead in Dallas
.
Current read:
Just started
Christmas Angel
by Jo Beverley. Regency romance.