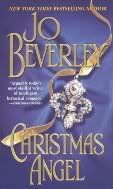 My first book of 2007. Well, not really. It was actually my holiday reading and as such it suited my mood very well. Jo Beverley is an excellent writer of historical fiction. Her books are light but well written and always have a good sense of place. This one, Christmas Angel is one of her Rogue series which is about a group of men who were together at school, or Waterloo, can't remember which now but it was probably both. Whatever, there's a book for each male character. This one deals with Leander Knollis, The Earl of Charrington. He needs a wife and has decided upon a marriage of convenience to a sensible woman. He finds Judith Rossiter and her two children but things don't work out quite as planned. Well, do they ever? *EG* I haven't read any of the other books in the series but judging by this one I probably will at some stage.

Under the cut - books read in 2006:


January:

1. The Welfare of the Dead – Lee Jackson
2. The Birthday of the World – Ursula Le Guin
3. Beauty – Sheri S. Tepper
4. Lost For Words – John Humphrys
5. Sunshine – Robin McKinley

February:

6. Changing Planes – Ursula Le Guin
7. The Compleat Crow – Brian Lumley
8. Dragondrums – Anne McCaffrey
9. The White Dragon – Anne McCaffrey
10. Renegades of Pern – Anne McCaffrey
11. Night Blooming – Chelsea Quinn Yarbro
12. Rocannon's World – Ursula Le Guin

March:

13. Stardust – Neil Gaiman
14. I, Coriander – Sally Gardner
15. Freedom's Landing – Anne McCaffrey
16. Freedom's Choice – Anne McCaffrey
17. Ex Libris: Confessions of a Common Reader – Anne Fadiman
18. The Curious Incident of the Dog in the Night-time – Mark Haddon
19. Planet of Exile – Ursula Le Guin
20. A Walk in the Woods – Bill Bryson
21. Scars Upon My heart – Ed. Catherine Reilly
22. Crow Lake – Mary Lawson
23. Redwall – Brian Jacques
24. Assassin's Apprentice – Robin Hobb

April:

25. Royal Assassin – Robin Hobb
26. The Family Tree – Sheri S. Tepper
27. Travels With My Aunt – Graham Greene
28. Beside Myself – Antony Sher
29. Carts and Cwidders – Diana Wynne Jones
30. Not a Games Person – Julie Myerson

May:

31. The American Boy – Andrew Taylor
32. Mr. Timothy – Louis Bayard
33. How To Be A Bad Birdwatcher – Simon Barnes
34. Nimisha's Ship – Anne McCaffrey

June:

35. Luck in the Shadows – Lynn Flewelling
36. Stalking Darkness – Lynn Flewelling

July:

37. 84 Charing Cross Road – Helene Hanff
38. Seven For a Secret – Judy Astley
39. Shooting an Elephant and Other Essays – George Orwell
40. Deathscent – Robin Jarvis
41. Botswana Time – Will Randall
42. Fingersmith – Sarah Waters

August:

43. Kitchen Confidential – Anthony Bordain
44. The Amulet of Samarkand – Jonathan Stroud
45. The No.1 Ladies' Detective Agency – Alexander McCall Smith
46. A Vision of Light – Judith Merkle Riley
47. Swahili For the Broken Hearted – Peter Moore

September:

48. Traitor's Moon – Lynn Flewelling
49. Beyond the Deepwoods – Paul Stewart, Chris Riddell
50. According To Queeney – Beryl Bainbridge
51. Lost Lands Forgotten Stories – Alexandra Pratt
52. The Conjuror's Bird – Martin Davies
53. A Room With a View - E.M. Forster

October:

54. The Goblin Mirror – C.J. Cherryh
55. Sabriel – Garth Nix
56. The Shop on Blossom Street – Debbie Macomber
57. Lirael – Garth Nix

November:

58. Tears of the Giraffe – Alexander McCall Smith
59. The Secret River – Kate Grenville
60. Gripping Yarns – Bill Oddie
61. Stone and Sky – Graham Edwards

December:

62. Apple of My Eye – Helene Hanff
63. Abhorsen – Garth Nix
64. Dead Until Dark – Charlaine Harris

Impossible to choose a favourite as it was a year of excellent reading. Most of what I read I liked and although some were a bit average there were no real stinkers that I can recall.