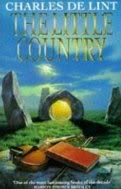 I've been reading this for at least two weeks but they were two weeks in which RL reared its ugly head so progress was slow. So, what to say about The Little Country by Charles De Lint. For a start, I liked it. I wouldn't call it brilliant but it was very good. My enjoyment of it was probably heightened by the fact that I know both the town and the village it was set in - Penzance and Mousehole - intimately. The street where Janey and her grandfather live is where an uncle and aunt of mine used to live... the exact part of it in fact. I was familiar with practically everything in the book and that's a very strange feeling to have when you read something.

This is one of those books about a book. Janey discovers an unpublished book by William Dunthorn - a deceased friend of her grandfather's - in the attic. The very act of opening and starting to read it sets off a chain of events that quickly run out of control. As well as reading Janey's story, we read the story of the girl in the book - Jodi - and what happens to her when she crosses swords with The Widow Pender who is purported to be a witch, and to keep a 'Small' in her house. And what has this story to do with Janey's real life as a musician? And exactly how many people would do anything to get their hands on this book and why? It takes a while for the story to unfold and along the way there are relationship issues as well as magical ones, so the story is not pure fantasy, it's a mix. If I have a complaint it's the over-use of endearments - 'my flower', 'my gold', 'my robin' etc. Yes, the older generation in Cornwall do use them, but not peppered around like confetti as the author suggests. Less is more, so to speak. But that's nit-picking; it's a jolly good read all told.

So, the first of my Chunkster Challenge books has been read. One down, thirteen to go. (I started with twelve and sneaked in two more - see user info for details.) Not sure what I'm going to read next. The next Chunkster one will probably be Temeraire by Naomi Novik or The First Casualty by Ben Elton - maybe - but I'll probably read something else first.